Hey all,
Ok, so the next Twin Peaks update is overdue.  There are some good reasons for that.  In case you have been living under a rock recently, Southern California experienced some of the heaviest rains ever during the month of December.  Santiago Peak alone received over 24″ – most of which occurred over a one week span!
A little history on Twin Peaks… In 2007, the inaugural race in February went off without a major hitch.  In 2008, a massive fire caused a course re-route and postponement from February to December – a race date that was cursed with a horrible storm during the 2008 Twin Peaks race and again during the 2009 Chimera race on that same weekend.  2009 was canceled due to storm damage and an inaccessible course.  In 2010 we had a successful race but things were sketchy one week before when a massive snowfall blanketed the mountain.  Many don't know that I didn't get the all clear from the Forest service until just a few days before the race.  Talk about stress!  I have an ultrarunner mentality as an RD – just keep pushing ahead, and make changes where they need to be made.  That is why, in the future, I will be moving Twin Peaks to early October when there is a much, much, much smaller risk of storm related issues.  Between fires and storms, winter is not a good time to have a race in these mountains.  The Santa Ana Mountains are rough and rugged without easy access in most locations, and even small storms with bad  timing can disrupt course access.  Twin Peaks is a GREAT race on a BEAUTIFUL course that just needed a new plan.  A new date.
That brings us to 2011.  If you look at this picture you can see that the road into Holy Jim is NOT accessible.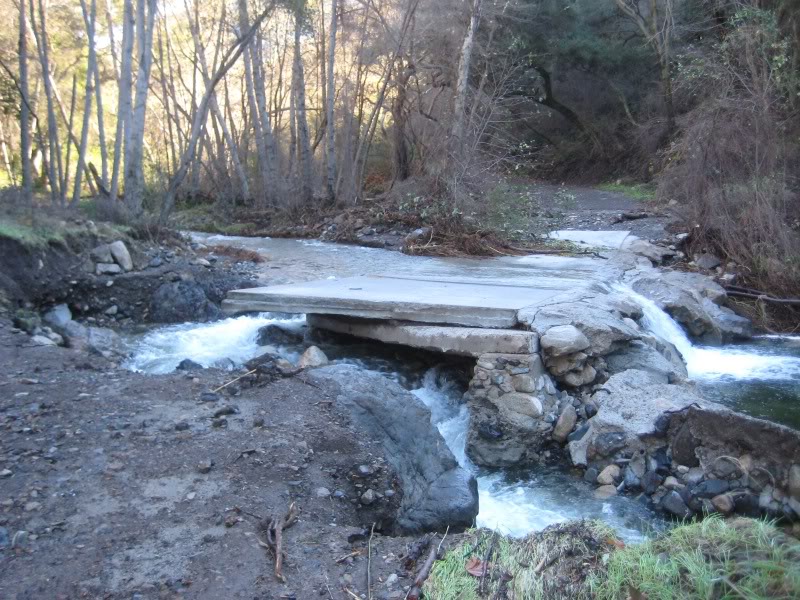 This picture doesn't even give the whole story and this 4.5 mile long road may be closed for months as the county and Forest Service repair their respective pieces.  That leaves Twin Peaks with the option of doing an alternate course (I was not going to have volunteers hike in water for 4.5 miles!)
If you look at these other pictures, you will see that what happened to the Holy Jim access road happened to most other access roads on the mountain.  In fact, there is only one clear, safe access road at this point.  The Forest Service told me it may be months before things are fixed and even another month before they assess all the damage which could top 1-1.5 million dollars!  The ranger I talked to has been there 7 years and said it's the worst damage he has ever seen (pictures from Greg & the SoCalTrailriders website).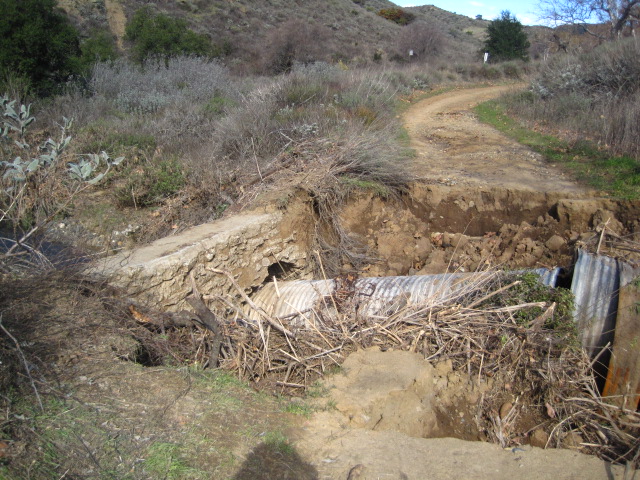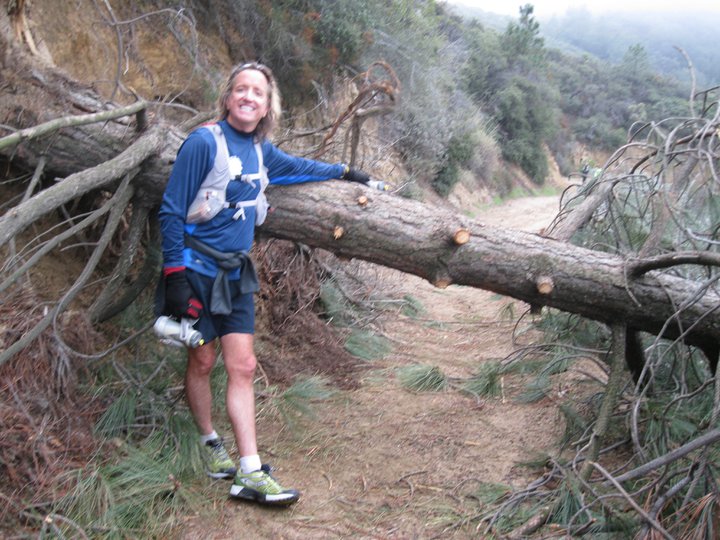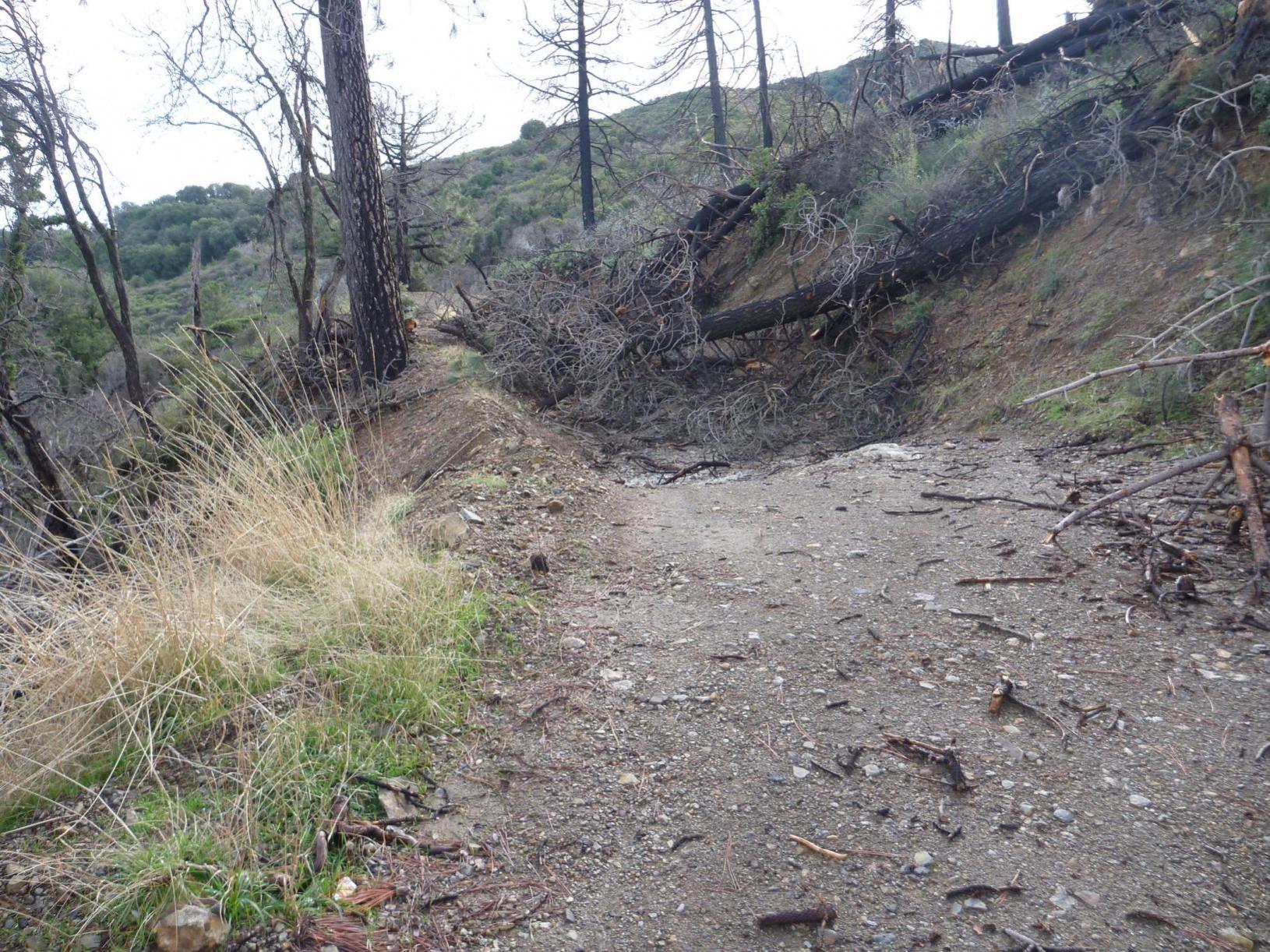 Based on the conditions of the mountains I have decided to postpone the February race until October 9, 2011.  Most of the race stuff has already been paid for so this race WILL still happen in 2011, just at a later date.  I plan to continue holding Twin Peaks on the first Sunday in October going forward, so I hope you will
consider Twin Peaks in the future as I remedy the problems with a February race date.  I really liked the February date, but it's just not worth the headache and risk.
My decision process was based on the following:
A – I would not be able to provide the original course experience that many people signed up for, though I did toy with several alternate route options.
B – There is an fairly high risk of a last minute cancellation if any rain falls on the already over saturated mountain.
C – There is a potential safety issue for volunteers and for runners with such limited access to the mountain – especially if there were to be a race day storm, injured or ill runners (who at certain points would be unable to receive a ride back to the start), etc.  There were even some 4×4 drivers who wouldn't come back to help at the 2011 race because the 2010 race was too rough on their vehicles.  I feel they will be much more willing to help on a different date.
I really think C was the straw that broke the camel's back since the first two on their own can usually be worked around.  While it's possible C would not be an issue, it's a chance I'm not willing to take with the runners and volunteers.  The sketchy navigatable sections of the road could be a real nightmare during a rain storm and/or once darkness falls.
Postponing the race is NOT an easy decision.  I understand that some of you may have already purchased airline tickets and some of you will not agree with this decision.  I hope you will understand this decision and that this race does have a no refund policy this close to race since the majority of the expenses have already been absorbed by me.  I will offer some concessions to help ease this burden, which I hope, you will find helpful.
First – if you purchased an airline ticket and are concerned about the cost, please send me a copy of your ticket receipt (or ticket copy) and I will give you a 100% discount into the 2012 Twin Peaks or  2011 Harding Hustle race.
Second – You will ALL be automatically entered into the October race unless I hear otherwise from you.  I will mearly have the date changed on ultra signup to reflect the new date.  Current registrations will be unaffected.
Third – You may instead choose to use your race entry to run the Harding Hustle 30 or 50K on July 11th, 2011 or the Twin Peaks 2012 race.  If you chose the Harding Hustle option I will also offer a 20% discount to a 2012 race to make up for the difference.   Please let me know as soon as you can if this is your preferred choice.
Fourth – Forest Service permitting, I will offer a "fat ass" Trail Marathon (approximate distance) for registered runners on the same date.  That means no cost to you but the aid will be very minimal, no shirt, nothing fancy.  Hopefully I would have 1 aid station about half way through the race with water and electrolytes.  I will let you know more on this when I get a response back from the Forest Service.  If the fat ass style race can't happen, I will STILL be at the race starting line on February 11th so you can come pick up your shirt and go for a self-supprted run if you'd like – it's a public mountain :)  If you come pick up your shirt, that implies you will be running the October race and are not taking one of the other options.
Again, I'm sorry things worked out this way.  It's not supposed to rain in California is it?  Right.  We all know recent years have brought LOTS of rain in the winter months.  Too much rain.  I will send out another update in a week or two with more details on what will happen February 12th (fat ass race or not, start time, etc).
Thanks for your understanding & please don't hesitate to call or email with any questions,
Happy Running & Dirty Feet,
Jessica